Reframing Citriculture: Better Connections for Future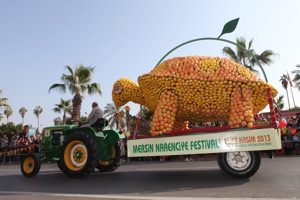 The host area and city of ICC 2020, The Mediterranean basin, in which Mersin is located, has an important place in the world citrus sector and citrus history. It is known that citrus spreaded to fertile lands of Anatolia and the Mediterranean and then to the Middle East with the introduction of Alexander the Great to the geography.
ICC 2020 calls you to one of the most fertile grounds of citrus worlwide. Mersin, which will host the ICC in 2020, celebrates the fruitfulness of the citrus-blooming lands as well as the historical memory of the region with its annual Citrus Festival was established in 2010. Each year, the festival is held in a weekend in November. A parade of various life size objects made of citrus and folkloric groups from many foreign countries takes place. Fashion shows and dance shows of the folkloric groups both in the city and in Kızkalesi continue two days long.